Can I sail in Amsterdam during covid-19? That's a question many tourists are wondering at the moment. Sailing through the canals of Amsterdam is not only a fun but also a safe activity during these turbulent times. Read here the latest information about sailing in Amsterdam during the corona crisis.
Am I allowed to rent a boat in Amsterdam?
Yes! It's allowed to go on the canals with a boat. Canal motorboats Amsterdam is open for business. The boats are waiting to be sailed. With the nice weather, sailing is the ultimate solution. Close yourself off from the outside world and sail through the never so quiet canals of Amsterdam.
How many people can go on the boat?
Since June 1st it's allowed to sail with more then 2 people on a boat. But it's still necessary to keep a distance between different families/households. There can be a total of 7 people on a boat. Our boats are spacious enough to keep a distance of 1.5 meters. The maximum number of households on a boat is currently 4. Would you like to sail with more than 4 households? Then take a look at the website of our sister company Eco Boats Amsterdam.
We have made an example of how many people fit on a boat per number of households. Each circle of a certain color represents one person from the same household.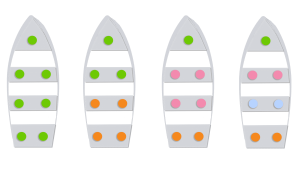 Discount for renting a boat during corona
To cheer you up we have a special Summer Deal. You get a €20 discount if you rent a boat for 2 hours. Instead of €90, you only pay €70! De deal is only available on monday till friday and will be added automatically when you rent a boat on our website.
Boat rental prices
| | |
| --- | --- |
| The 1st hour | €50,- |
| The 2nd hour* | €40,-* |
| The 3rd hour | €30,- |
| The 4th hour | €20,- |
| Every hour after that | €20,- |
*Summer Deal: Rent a boat for 2 hours during the week and pay €70 instead of €90.
Sailing during the week in Amsterdam
Would you like to sail, but are you worried about how busy it will be on the canals? Then go sailing during the week. The days are getting longer, which gives you some time to go out in the evenings after work. And the canals are more quiet than ever, so you can enjoy the canals all by yourself.
The canals are completely empty
The canals and streets have never been so quiet. A very special sight to see Amsterdam without tourists. The busy character of the city centre has changed into a rustic and picturesque streetscape. Normally you're not the only one who sails past sights like the Anne Frank house or the Munttoren. But now you can see the beautiful spots of Amsterdam in peace and quiet.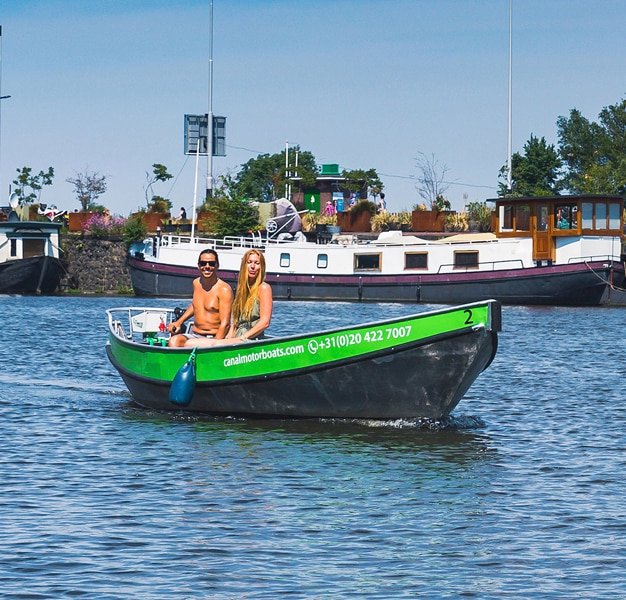 FAQ
Do you have a question about renting a boat in Amsterdam? Take a look at our most frequently asked questions. You can also find more info on our Boat Rental Amsterdam.