If you want to rent a boat, Amsterdam is the place to be. Did you know that Amsterdam is also known as the Venice of the North? Many people are convinced that the water is the best place to admire the city from. Would you like to discover this for yourself and have an amazing time too? If so, rent a boat in Amsterdam from Canal Motorboats. You'll be able to sail off onto the canals from our rental office in the centre of the city in no time at all.
Rent a boat Amsterdam for seven people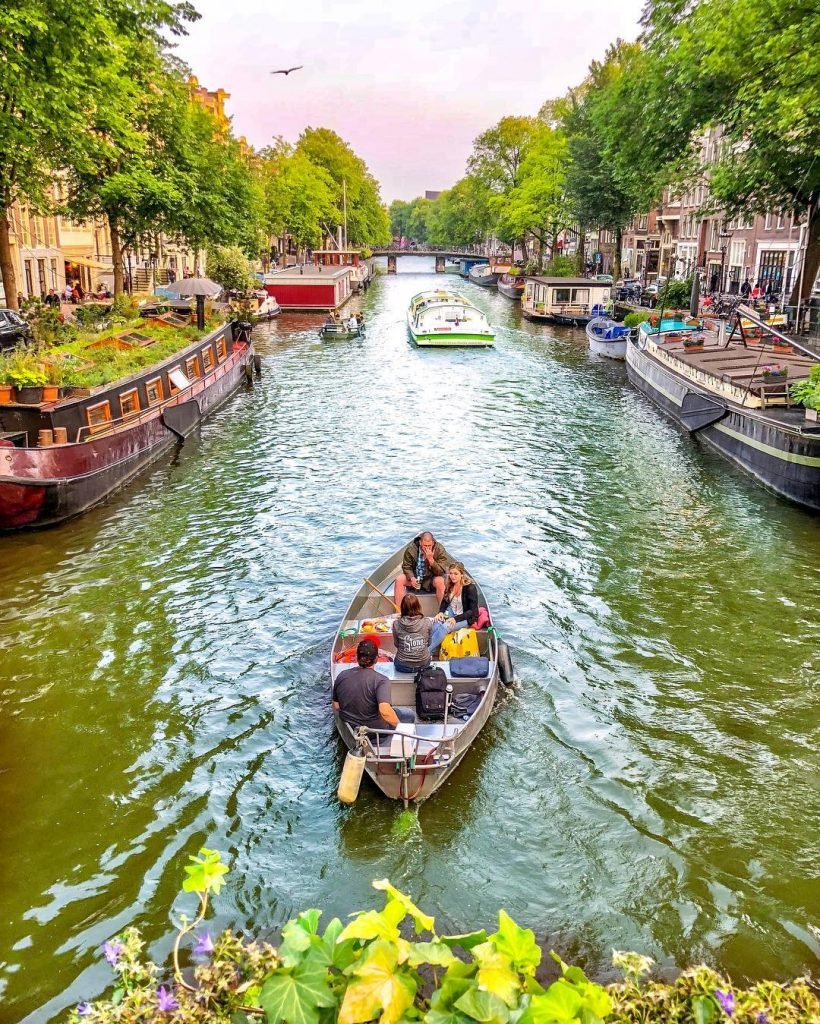 Our spacious aluminium boats are big enough to carry seven people. Each of them is powered by a 1500 Watt electric outboard motor with four batteries, which ensures that you can explore the city all day long without having to worry. Thanks to the built-in air boxes, our rental boats will never sink, even if they fill up with water. Would you like to discover the capital city from the water with family or friends? If so, book one of our ten boats now and jump on board. Our boat rental office is situated at the Westerdok, within walking distance of the centre of Amsterdam.
Prices boat hire Amsterdam
Canal motorboats has a unique pricing system. This allows you to rent a boat in Amsterdam for a low price. With us you get a discount on the next hour for every hour you sail. After the first hour you get €10 discount and after the second hour €20 discount on the next hour.
Boat rental Summer Deal
We currently have a very nice offer. You get €20 discount for renting a boat for 2 hours! The discount is valid from Monday to Friday. Instead of €90 you only play €70 for 2 hours sailing. You don't have to do anything. The discount is automatically deducted at the time of booking. Be quick. The discount is temporary!
What we ask of you?
Would you like to rent a boat in Amsterdam from Canal Motorboats? Great! To start off, we ask you:
To bring a valid ID
For a €150 deposit
You can pay the deposit in cash or with a credit card. We are able to offer you a number of flexible rental options, starting with a minimum of one hour. There are a number of rules that we will expect you to observe. The full rental amount will be due from you as soon as you make your booking and must be paid even if you don't actually use the boat for whatever reason. In this situation, the boat you booked will be rented out to someone else after the first hour has passed. See our general conditions for more information.
You're the captain
You don't need a navigation license to rent a boat from us; so you'll be free to steer it yourself. We will give you clear instructions before letting you out onto the water and we are always available to discuss possible sailing routes with you. So, you can be sure that you'll see the most beautiful parts of the city.
If you rent a boat Amsterdam, you should:
obey the Amsterdam navigation rules
always give way to commercial shipping and other big boats
always keep to the right-hand side of the waterway
reduce speed when approaching bridges and bends
give way to smaller ships approaching from the right
observe the maximum speed limit
not play loud music
Boat + extras
Here at Canal Motorboats, we have thought of everything you might need for a perfect day. We have the best sailing routes all mapped out for you on a waterproof map and free life jackets are provided for children under the age of 12. If you have any problems while you're out, don't worry; you can always call us and we'll help you get back on your way. Would you like to do more than just rent a boat in Amsterdam? If so, we also have a fun quest that you might like to do.
Renting a small or big boat in Amsterdam
Here at Canal Motorboats Amsterdam, we have a number of bigger sloops and boats too. They cater for groups of 70 people or more. These vessels can't be booked online, so please contact us if you would like more information about them. We'll be happy to tell you which options are possible. Renting a small boat for seven people or less can be completed easily via our reservation system.